B E Z I T O P O
Bezitopo now has a GUI. It's called ViewTIN, as all it shows is points, a TIN, and contours, but I'll eventually rename it, once it has more functionality.
New files
Bezitopo has two new file formats: criteria files, which tell which points to include in a topo, and type-0 breakline files, which are just the breaklines you're used to. (Type-1 breaklines will tell where one point's slope doesn't affect a neighboring point's. They're meaningless with flat triangles.)
This is a criteria file:
0,0,,,,1
0,0,,,"FH",0
1059,1059,,,,0
0,0,-3,3,,0
It is a CSV file. The first two columns are point numbers, the next two are elevations, the next is a substring of the point description, and the last is 1 to include in the topo or 0 to exclude. The elevations are in the current unit.
This is a breakline file:
213-214
192-193
373-372
241-242
652-653
657-658
1094-1081
915-1134
968-969
875-876-877
762-763-764
669-670-671
382-383-602
196-197-198
949-950-951-952
368-369-370-371
199-200-201-202
27-376-377-378
757-758-759-760-761
1258-1259-1261-1260-1258
1262-1263-1265-1264-1262
1270-1271-1273-1272-1270
1266-1267-1269-1268-1266
920-921-922-923-924
961-962-963-964-965
765-766-767-768-769-770
646-647-648-649-650-651
908-910-911-912-913-914
203-204-205-206-207-208-209
892-891-890-889-1102-1105-1089
608-607-606-605-604-603-602-615
863-864-865-867-1101-1104-1107-1108
624-637-638-639-640-641-642-643-644-645
659-660-661-662-663-664-665-666-667-668
980-982-983-984-985-986-987-988-989-990-991-992-993-994-1071-1072-1073-1074-1075
Usage
The Bezitopo source directory includes these files:
topo0.asc
topo0.brk
topo0.crit
flattri.asc
notri.asc
samepnts.asc
To generate contours of Independence Park:
Set the units to US survey feet.
Import the PNEZD file topo0.asc. (This is called importing, because loading will be done to .bez files. Bezitopo can't yet read a .bez file.)
Import the criteria file topo0.crit.
Import the breakline file topo0.brk.
Make the TIN.
Select a contour interval. You can select an interval in meters or in feet.
Draw smooth contours.
To edit breaklines:
Click or double-click on an edge of the TIN.
When the cursor is on an edge, it displays two numbers, like "1184-1157", next to the cursor. If it shows three numbers in parentheses, it's inside a triangle, and if it shows just one number and a point description, it's on a point. In either of these cases, clicking on it has no effect.
Single-clicking on an edge toggles its "in breakline" bit. Double-clicking on an edge flips it, if possible.
If an edge is thick blue, it's in a breakline. If it's also dashed, it's a necessary breakline; leaving that edge out of the breaklines would result in a different edge in the TIN.
ViewTIN will not ask you if you want to save the breaklines when you exit. It just exits.
When experimenting with different breaklines, you will generally want to draw rough contours, because it's faster than drawing smooth contours.
The other files, flattri.asc, notri.asc, and samepnts.asc, are for triggering errors in TIN generation.
Screenshots
Finally some screenshots of Bezitopo itself!
Part of Independence Park, showing a sloping road, without breaklines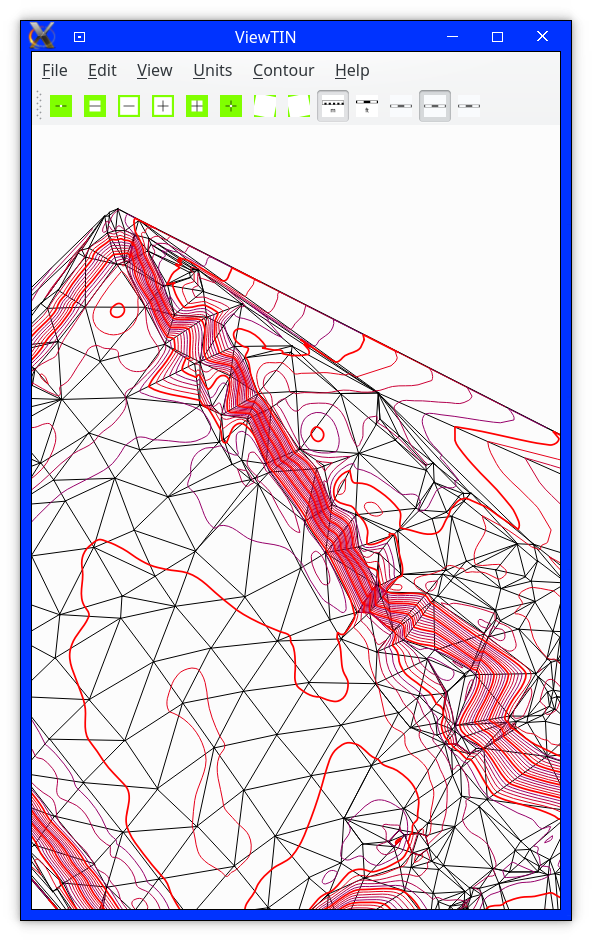 Part of Independence Park, showing a sloping road, with breaklines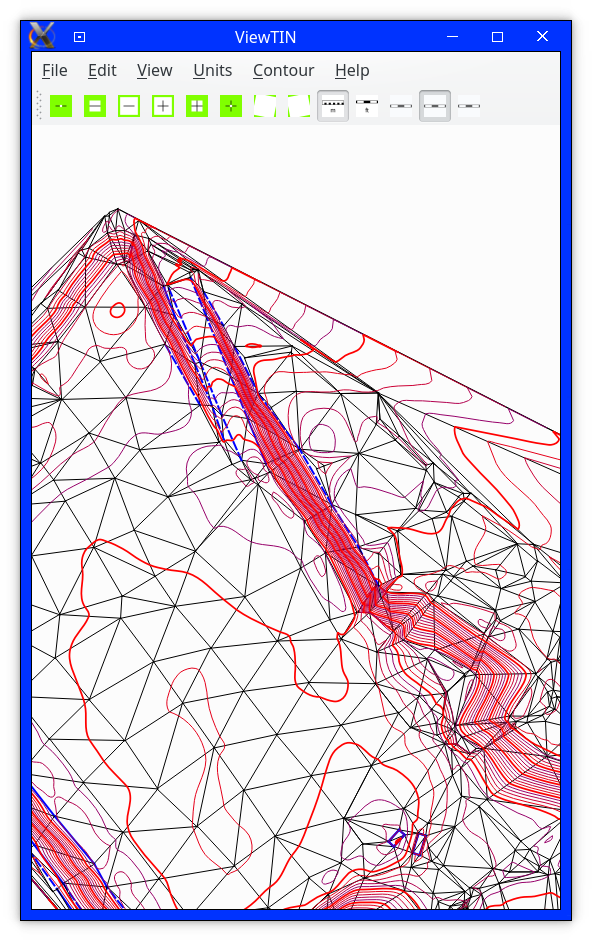 The rectangular drain covers 1258 etc., without breaklines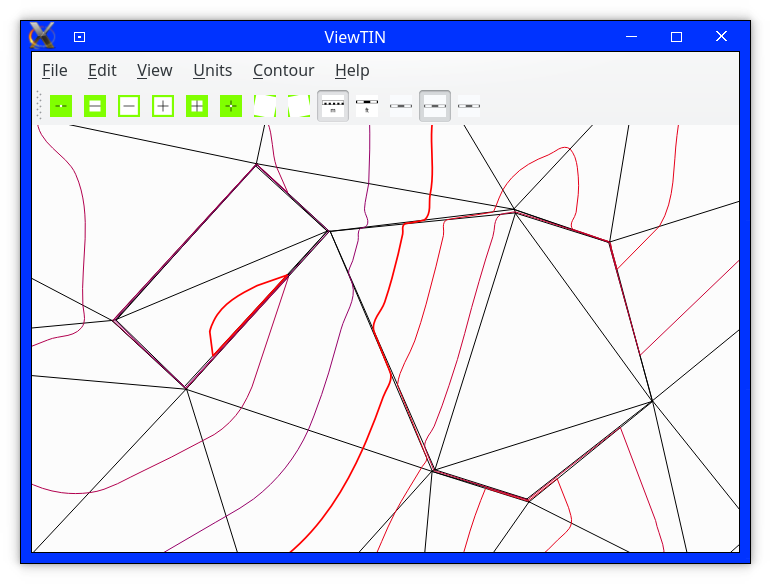 The rectangular drain covers 1258 etc., with breaklines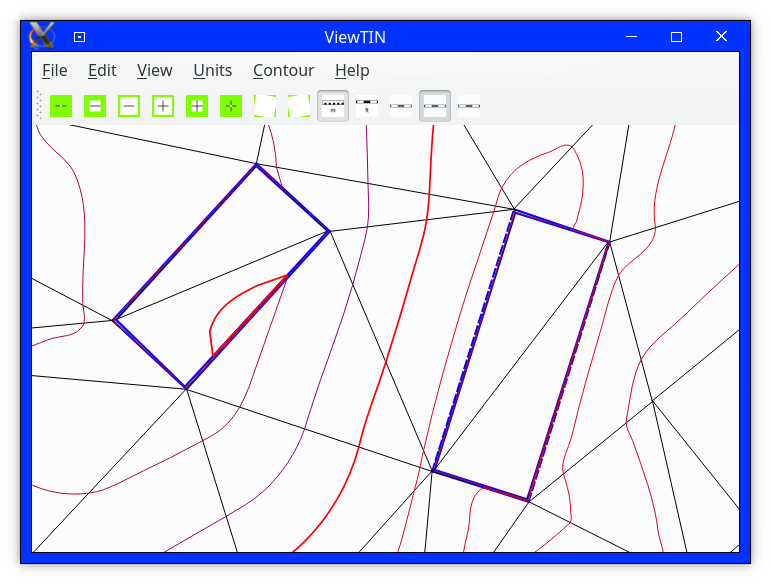 Download
System requirements
Requires CMake 3.1.0 or later, Qt 5.x, and a C++ compiler that understands string::pop_back.
DragonFly BSD: It works on 5.0.0.
Debian and derivatives: Jessie or later. See /etc/debian_version . Ubuntu Xenial's Debian version is Stretch.
Release build status
Ubuntu Xenial and Artistic x86_64: It builds and works well.
DragonFly BSD 5.0.0 x86_64: It builds and works well.
Raspbian Jessie: It builds and works well.
Cygwin: It builds and works, but outputs messages about a window, and Cygwin has been known to crash while it's running.
Pierre Abbat
NC PLS L-5129